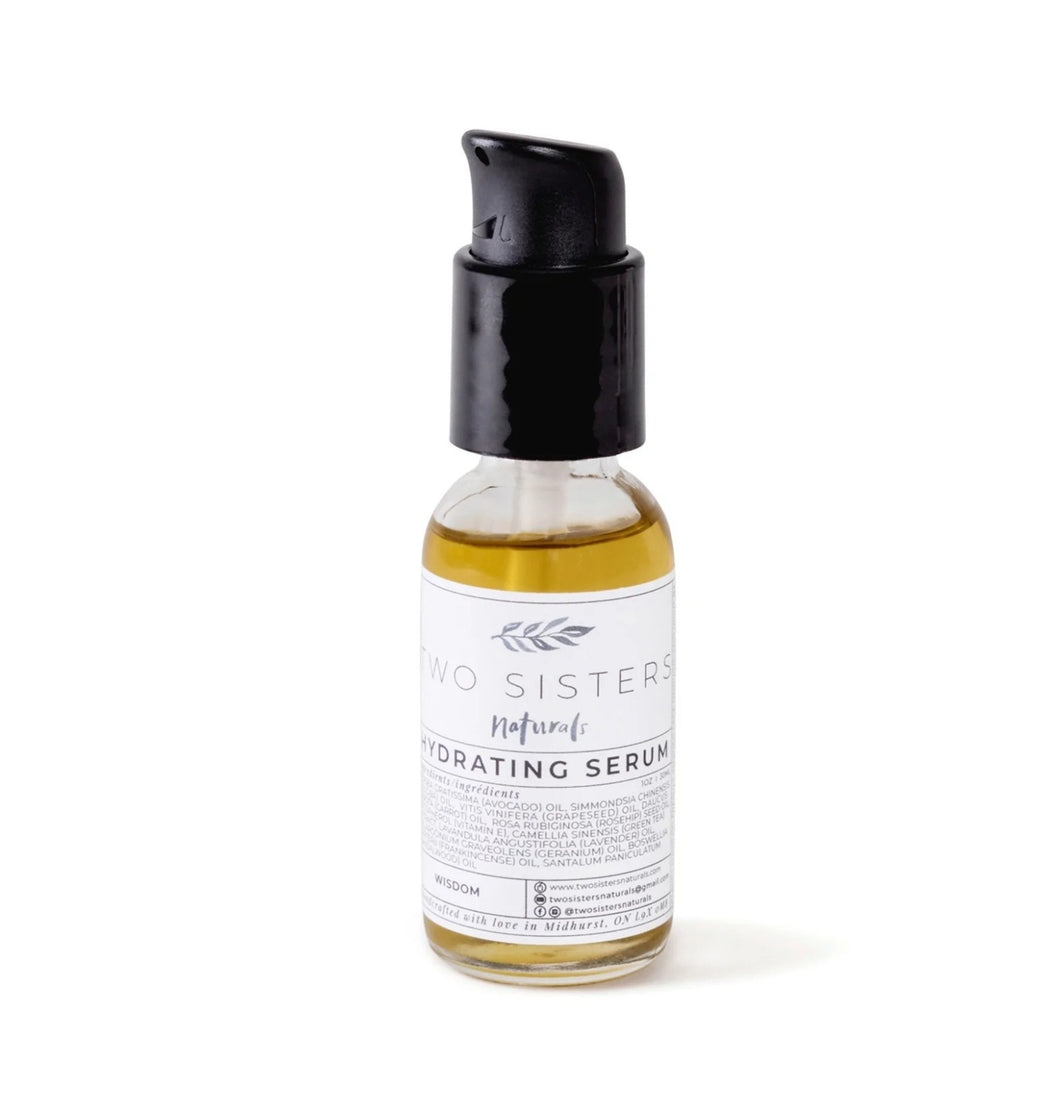 Two Sisters Natural Hydrating Serum! Wisdom! ***BEST SELLER***
Regular price $55.00 Sale
Is hydrating serum, the missing piece in your skin care puzzle?
Everyday life can leave our skin feeling unbalanced. Two Sisters hydrating serum soothes your skin helping it return to its natural state.  
Even out skin tone, fill in those little lines, say goodbye to dry, flaky foreheads and get your glow on with this revolutionary product that responds to the specific challenges on your face and neck.
By offering two formulas, Two Sisters Naturals ensures that the serum responds to the particular concerns of your delicate face and neck.
Packaged in a refillable 2oz I 60ml glass jar with a pump top.
Choose from these two formulas: 
Nourish–  All skin types need a bit of nourishment.  The Nourish serum was designed with acne prone, oily or combination skin in mind. This rejuvenating serum  contains oils that are naturally anti-bacterial, helping prevent breakouts, while also adding moisture. The end result is skin that feels balanced and rejuvenated.
Ingredients: Grapeseed Oil, Jojoba Oil infused with Lavender, Hazelnut Oil, Vitamin E, Witch Hazel, Lemon Oil, Lavender Oil, Tea Tree Oil, Lemongrass Oil, Rosemary Oil
Wisdom –  Is your face feeling a bit thirst quenched or sensitive?  Then it's time for a bit of Wisdom. This hydrating serum is crafted to respond to those challenges that dry, maturing, sensitive, and environmentally damaged skin experience.
Ingredients: Avocado Oil, Jojoba Oil Infused with Green Tea, Grapeseed Oil, Carrot Oil, Rosehip Seed Oil, Vitamin E, Green Tea Extract, Lavender Oil, Geranium Oil, Frankincense Oil, Sandalwood Oil 
Recommended Application:
Apply one or two pumps to fingers and massage over your face and neck.  For best results, use our hydrating serum twice daily.
FYI: This product absorbs within minutes meaning you can quickly throw on a bit of makeup and be ready for the day.