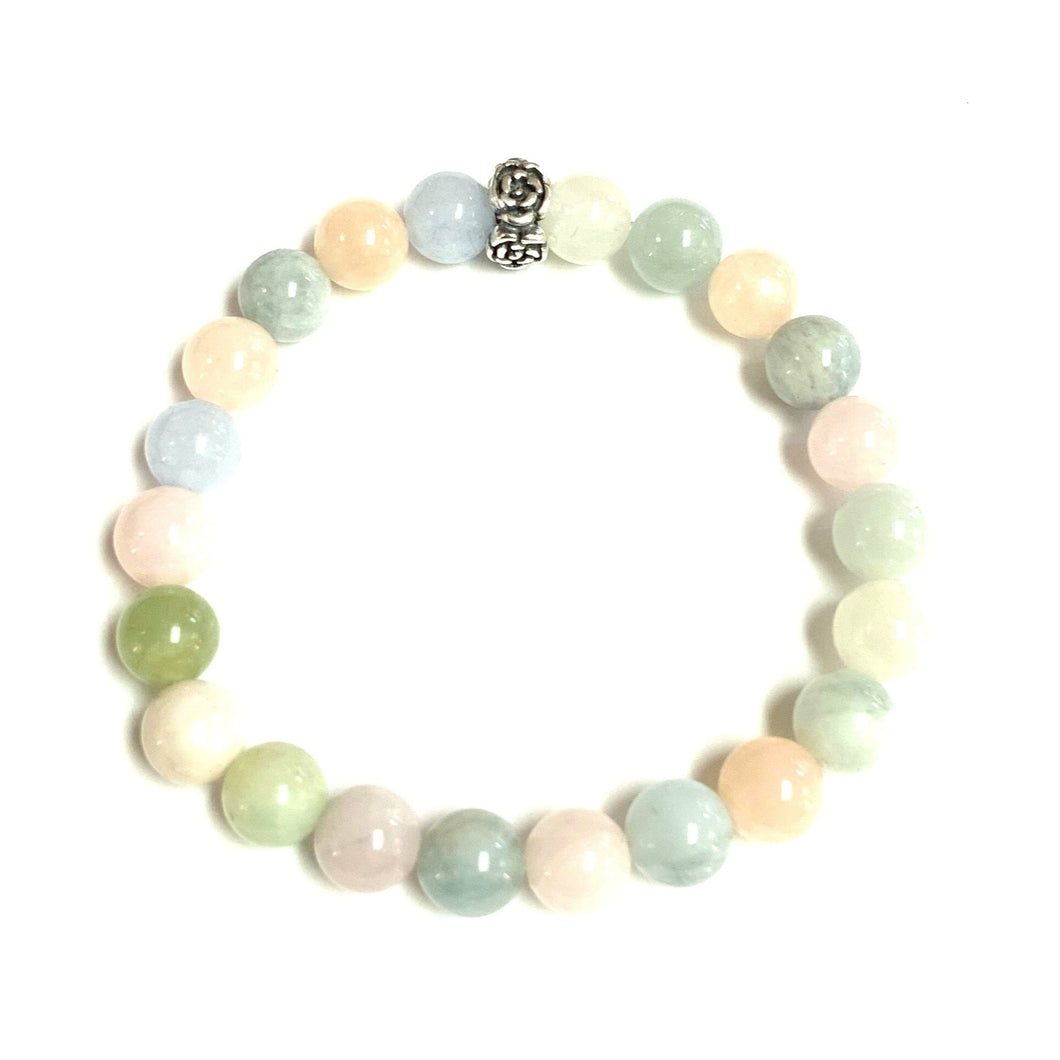 BZen Morganite & Sterling Silver Bracelet!
Regular price $80.00 Sale
Morganite with its clear, peach-pink innocence embodies the first pale rays of sunrise that swells the heart and warms the soul, releasing a sense of smallness in a vast universe and opening to the overwhelming presence of a Higher power. This is a Crystal of Divine Love. It brings healing, compassion, assurance and promise.
With its gentle pink energy, Morganite attunes to the heart and the Heart Chakra. It cleanses the emotional body of stress and anxiety, old wounds and hidden traumas, and enkindles lightness within the spirit, as if a burden has been lifted. It brings in the frequency of Divine compassion, inspiring the awareness that life's suffering and pain served a higher purpose in our spiritual growth, and can be a catalyst for moving forward in peace and confidence. [Simmons, 270][Hall, 81]
This crystal also attracts the abundance of love into one's life and assists in maintaining that love as it continues to grow. It encourages loving thoughts and actions, consideration and responsibility, and being receptive to love from others. As a crystal of the heart, it may be used to attract one's soul mate or in deepening a current relationship. It inspires joy and reverence for life, and increases the opportunities which allow one to experience the unconditional love of the Divine. [Melody, 419][Hall, 80][Gienger, 59][Ahsian, 271]
Morganite is the pink variety of Beryl, a beryllium aluminum silicate, colored by manganese or cesium and forms in masses and prismatic crystals. It is pastel or pale in color by nature, known for its transparent peach-pink color, though it also occurs as soft pink, violet-pink or pale salmon. In rare cases, it can display chatoyancy (a cat's eye effect), or asterism (a star effect), when cut to highlight these features. Unlike Emerald, another Beryl which tends to have significant inclusions, Morganite is relatively free of inclusions. Another rarity is the availability of large Morganite rough, making large faceted stones possible. The largest to date is a 598.70 carat cushion-cut gem from Madagascar now housed in the British Museum collection. [Simmons, 269][www.gemselect.com][www.jtv.com]
Discovered in California in the early 1900's, and soon thereafter in Madagascar, this crystal was known as Pink Beryl until 1911 when, at the suggestion of George F. Kunz, the chief gemologist at Tiffany & Co., it was renamed Morganite in honor of the legendary financier and gem collector J. P. Morgan, for his gemological and mineral contributions to the American Museum of Natural History in New York, USA. Morgan was also an avid customer and collector for Tiffany's, where much of the Morganite was sold at the time. [Simmons, 269][www.gemselect.com][www.jtv.com]
While Morganite is the pink variety of Beryl, the Beryl family also forms in other colors used as gems, such as green Emerald, blue Aquamarine, yellow Heliodor and Golden Beryl, Red Beryl or Bixbite, and the colorless variety, Goshenite. Morganite is also called "Pink Beryl," "Pink Emerald," and "Cesian (or Caesian) Beryl." [www.wikipedia.org][Eason, 55][Ahsian, 270